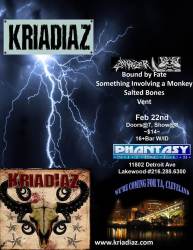 PROJECT WOLF: METAL FOR WILDLIFE FEATURING KRIADIAZ with SCHNAUZER / BOUND BY FATE/SOMETHING INVOLVING A MONKEY /SALTED BONES !!!!
Time: 8:00pm Day: Saturday Doors: 7:00pm Ages: 16+ / Bar with ID Price: $10
This Event Has Ended
KRIADIAZ
Heaviest album of the year? Never mind what these guys think, listen and decide for yourself!
www.thenewreview.net
Heavy is good. Heavy done right is even better. Now throw in really stellar influences all while making it your own sound. Well, that, my friends, is a great place to be when releasing an album. Thankfully this very bit of advice is what Cleveland's own Kriadiaz has done with their self-titled debut. Since 2010, Dave Felton from Mushroomhead and these metal slingers have been bringing the mud-hole stomping, and does this debut ever pack some punch! Taking much love from the masters Pantera, Crowbar, Down, with hints of Lamb Of God, and a Black Sabbath type of ominousness, Kriadiaz have crafted a very heavy solid 90?s era heavy metal album that kicks teeth down throats with no chance of apology!
With fourteen tracks this record is a solid sea monster of sound. The guitars are thick, albeit sometimes fuzzy, but never lose that crunch or the attitude they are bringing. "Bloodline" and "Long Time Gone" open the album with an evil right hook to the jaw. "Bloodline" has some nice acoustic string picking and then blasts into the fray. Old-school Pantera is drenching both these songs. That is not to say this is just a copycat act; hell no. Instead of just mimicking, what I saw with Kriadiaz is a near-perfect picture of how a band should be influenced by the greats of old, all the while making their own sound. The leads in both these songs totally shred and from that point the album never lets you second guess the quality journey you have embarked upon.
Yes, it's obvious that Kriadiaz has lavishly taken the Pantera heavy metal playbook. In addition, there's also a dash of southern, and even sludge metal essence, to the underlying heart of the music; remember that Kriadiaz does draw from Down, as well. While not hazardously overpowering, the southern/sludge ingredients add flavor to the listeners palate and bring a more rounded sense of total maturity to the musicianship; "Ten Lives Lived,"The Rebuilding," "Burning," and "Soulchaser" all portray this hint or aftertaste of southern metal and hints of sludge. One of the strongest points of this record is the song consistency. We don't see an overly sludgy song or a straight up southern metal track. Instead, we are treated to one of the most masterfully blended and well paced records I've heard all year that allows for hints without leaving the formula already established.
Just so there's no doubt, the Pantera-esque 90?s metal that Kriadiaz wields is massive in both undertaking and result. The guitar work is top notch. Solos, of which there are many, are handled with a dual flare of artistry and powerful confidence. The rhythm section is tight and keeps heads banging for the whole music experience. While the vast majority of the record keeps a more mid-paced groove, the speedier "Lepers & Liars" doesn't feel forced and in fact packs quite a terrific knuckle sandwich down the throat.
Earlier I mentioned a sort of Black Sabbath ominousness. Well, that really starts to hit when the sheer depth of the album can be fully appreciated. Even as the final song, one of the two instrumentals ("The Saint Louis Combo" being the other), "Stoner Funeral," has some hints toward a Sabbath touch. The entire record has a real overhang of an ominous, mountain-like heaviness that really opens the doorway to experience Kriadiaz from a nostalgic perspective. While not much of a direct sound-alike, there's a similar Mastodon kind of cleverness to Kriadiaz's songwriting, in that the consistent aggression are not just blunt force objects, but in fact cohesive storytellers that reveal the heavy heartbeat of the art.
In the end, Kriadiaz has given us a slab pure heaviness that really is top notch. From top to bottom this is one brutal heavy metal record that sure to win them listeners. If the tough guy vibes of Black Label Society, Lamb Of God, Primate, (old) Metallica, all the way to Pantera and Down reverberate in your soul, then you totally owe it to yourself to spin this beastly Kriadiaz. This will surprise the many of you who thought that good ol' mud-hole stomping metal had fallen asleep. Kriadiaz has most assuredly won a spot on my years best list, hands down, so get ready to be awoken by one of the heaviest, well played, and most entertainingly enjoyable heavy metal records of 2012.
SOMETHING INVOLVING A MONKEY
SOMETHING INVOLVING A MONKEY was started as a concept ironic band back in the summer months of 2010 when Joe Petrich & Todd Ankrom's band The Family Riot went de-funked. They recruited the bass playing/kazoo blowing talents of Bezo from Resist/Blood Runs Dry. The idea....write creative, unique, genre crossing music that would send the listener all over the map of ear entertainment. Vanilla is for ice cream, not music, was their motto. Gigging for this band started in 2011. The band experienced success as they traveled the state of Ohio & western PA. Live shows showcased the members multi-tasking talents as crowds watched them juggle multiple instruments at once. Songs ranged in topic about guady starlights to pudding on one's face. Often described as Primus mashes with System of a Down, this still does not completely encompass the group. 

Unfortunatly, a December 30th, 2011 show opening up for Cleveland's own Mushroomhead brought about tragity for the band when drummer, Todd Ankrom, suffered a massive heart attack moments after their set. Todd apparently suffered from an enlarged heart, something unbeknownst to himself or anyone else. This put the band on the shelf for sometime. But the surviving members have decided to pursue the group in Todd's memory, hiring the drum talents of Nick Ritz. With hearts heavy, the band looks to march on to the beat of their own drum (pun completly intended) and carry on with their sarcastic blend of "other" music....
BOUND BY FATE
With the natural progression of time, and as man advances in his life, he experiences a vast array of things... some good, some bad, some simply terrible. These experiences often bring strong emotional reaction coupled with a desire to stand up and lash out at these perceived injustices. Not all are capable, or willing, of doing this... so man looks for a voice to speak on his behalf. 
Since 2008, a group of musicians sharing these very opinions, and a desire to come together as one to be that voice (Hence the name Bound By Fate), have answered the call. Bound By Fate is the resulting effort of Phil Sonner, Dan Cameron, Tim Seale, and Dave Snodgrass. Collectively, they are known for delivering "Brutal pulverizing grindcore with the intensity of a bad migraine" (Erie Times), and an undeniable groove, and putting on hellacious live performances. All being done with a degree of professionalism not commonly found in many underground bands.
VENT is currently endorsed by Spear Guitars, Sfarzo Strings and Rokstark Strings and Cables
Playing good old fashion get in the pit and fuck shit up music, that will hit you in the face like a sledge hammer! We have been compared to Biohazard, Suicidal Tendencies and just recently Downset.